Like A Rock
[Foals] [Extended Pedigree] [Additional Pictures]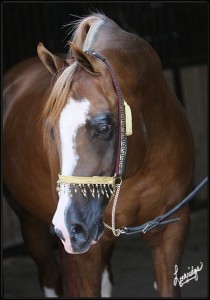 LIKE A ROCK (*PAARDEN X GAY-AMIGO)
15 Hands. AHR*495612
IAHA Breeders Sweepstakes Nominated Sire
Retired from the breeding shed, now focusing on our young sire, Khoronaa
Like A Rock, otherwise known as Chevy, is sired by *Paarden+, our foundation sire at Red Rock Arabians. *Paarden+ was of Russian and Crabbet bloodlines. Like A Rock's dam, Gay-Amigo, a G-Amigo daughter, is a predominately Polish-bred mare. Therefore, Chevy is a blend of the best!
Chevy was shown in halter classes on a limited basis as a yearling and two-year-old, capturing many second glances and blue ribbons with his flashy good looks, great conformation, and typey Arabian features. He was then started in performance training at Red Rock Arabians as a three-year-old, first being driven, then started Western Pleasure training soon afterward. Like A Rock was put into training with Mark Bucher and shown as a four-year-old in Arabian Western Pleasure Junior Horse classes in 1997. At just his third show, he won 1997 Region 8 Reserve Champion Arabian Western Pleasure Junior Horse.
Chevy went on to the 1997 Canadian National Championships, narrowly missing the Top Ten in the Junior Horse Division. In 1998, he started out competing in Scottsdale in the Junior Horse Division once again.
Like A Rock has proven to be an excellent sire, following in *Paarden+'s footsteps. We are very impressed with the high quality and the amount of color he has produced thus far.