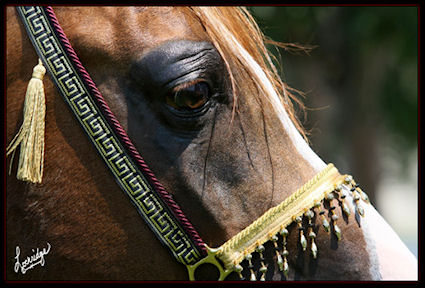 Red Rock Arabians is a premier equine establishment located just outside of Lytton, Iowa. Established in the 1970′s, Red Rock Arabians has raised quality Arabians for over thirty years. Owned and operated by the Larry Ellis family, Red Rock Arabians began with predominantly Polish bloodlines, but now focus on mainly Russian/Crabbet crosses as well as some select domestic bloodlines.
In the never-ending quest for the perfect combination of Arabian type, beauty, athletic ability, and most importantly, disposition, we purchased our dream horse, *PAARDEN+, in 1988. He became the heart of our breeding program.
Although *PAARDEN+ passed away in 1998, his legend lives on at Red Rock Arabians through his many get and grandget.
Although Red Rock Arabians focuses primarily on breeding western type performance horses, we also enjoy driving our Arabians. We have a team of chestnut geldings as well as a team of Half-Arabian bay tobiano geldings that are all sired by *Paarden+. We keep the teams busy by giving sleigh rides in the winter and participating in shows and parades in the summer! For one of our Open Barn presentations, we put together Unicorn and Four-at hand hitches.
Red Rock Arabians continues to strive to breed quality Arabians that we have a lot of fun with.
—————————————————————————————————————————————————————————————–
IN MEMORY OF ALMOST PAARFECT+ 1998-2016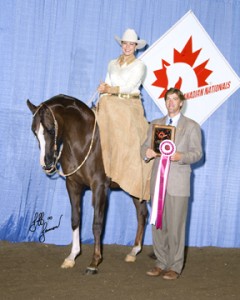 "Ali" as we affectionately called her was the epitome of what we strove to produce. Beauty, athletic and a family member. She captured hearts all over the country with her unmistakable quality in and out of the show ring. On the farm she was well known for her kind, loving personality. She is greatly missed.
(*Paarden+ x Roda Mack Islam)
2008 Canadian National Top Ten Arabian Western Pleasure AATR 18-39.
2008 Canadian National Top Ten Ladies Side Saddle Western
2005 Canadian National Top Ten Western Pleasure Open
—————————————————————————————————————————————————————————————–
   KHORONAA  – Current Stallion standing at stud at Red Rock Arabians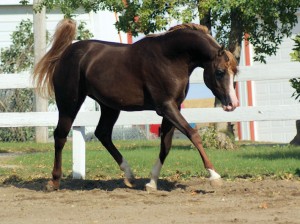 —————————————————————————————————————————————————————————————–